ABOUT RSSOwl | QUICK START | ELEMENTS | HOW-TO'S | TIPS AND TRICKS | RESOURCES
RSSOwl Elements: The main screen
Also see: Menus | Popup menus | Dialogs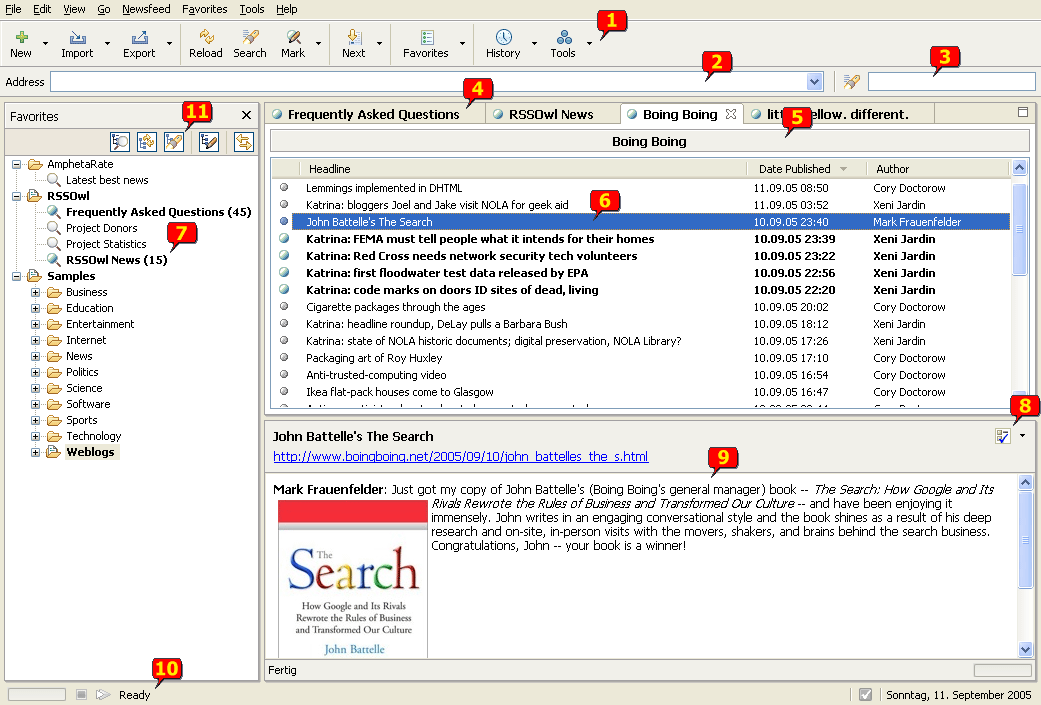 The Toolbar contains common actions like "Goto next unread news" or "Mark all Read". Use the "View" Menu to toggle visibility of the ToolBar.
The Quickview pane allows to open a Newsfeed by entering its URL. Use the dropdown list to reopen previous opened feeds. The Newsfeed is opened into a new Tab (4). Use the "View" Menu to toggle visibility of the Quickview control.
The Quicksearch is enabled whenever a Newsfeed is opened in the TabFolder (4). Enter a term and RSSOwl will search the Newsfeed automatically while typing.
The TabFolder displays Newsfeeds in Tabs. It allows comfortable navigation between multiple Newsfeeds.
The ChannelInfo box contains information about the displayed newsfeed. For example homepage, author and last modified date. Simply click on the gray box to view the information.
The Newsheader Table lists articles available in the currently selected newsfeed. The list can represent articles from your Favorites collection, from a newsfeed search results set, or from a newsfeed URL entered into the Quickview bar. Click any article on the list to view its summary and source URL in the News pane (9). Double-click an article to open it in the browser.
Newsfeed Favorites tree. This pane represents your newsfeeds collection. Use the Favorites pane to view, manage, and even share your collection of newsfeeds.
Use this drop-down to rate the current viewed news with AmphetaRate.
The News pane displays summary text from the article currently selected in the Newsheader pane. It also contains a link to the URL for the article. The link opens the full article in the browser.
The status line will become active whenever a newsfeed is loaded, reloaded or searched. Use the stop-button to cancel the loading. The skip-button is usefull when loading more than one favorite to skip the loading of a feed.
The Favorite's ToolBar provides quick access to common actions that affect all Favorites, for example "Mark All Favorites Read" or "Reload All Favorites". Enable the "Link with displayed feed" feature here in order to let RSSOwl automatically select the displayed newsfeed in the Favorites Tree.
---
(c) 2003-2008 RSSOwl Development Team [+]